On Saturday 13th April 2013 I will be celebrating Undiagnosed Children's Awareness Day, probably at home, perhaps with an acquired bit of Easter chocolate, but undoubtedly with a huge sense of pride.
I guess I don't talk that much about Dominic (and of course Elliot and Lilia as we know they have a milder form) not having a diagnosis. I accepted a long time ago that finding an answer to why this had happened and what it meant we might face in the future might never happen. Although the unknown is one of the hardest things an information junkie like me could possibly be asked to embrace, it is probably what has saved me. It is only when a new test is suggested that my compulsion to throw myself into hours of late night research starts again. Thankfully this doesn't happen that often any more. I say thankfully because it's exhausting, physically and emotionally to be endlessly poised to find out whether your child is about to be handed a death sentence or a not, and geneticists aren't doctors who are in a rush, so you can be driven mad by worry but then have to wait for a year for a follow up appointment to find out the results of the tests. If the test results don't go missing somewhere along the line that is. Living in limbo with this level of anxiety about the unknown is disabling in itself, planning for a future you don't know whether you'll ever have leaves you scared to makes plans but racked with guilt if you don't. At some point you have to make a decision to let it go but accept that it will lurk like a dark shadow over every illness, every appointment, every form you fill in and every conversation about your child's (unknown) future.
Tests to try and diagnose Dominic are few and far between now quite simply because we've done them all. The conclusion, if you look at the results printed in his notes, is that Dominic is normal. Ahh, I love that word as it holds so much importance and yet is so often meaningless. Dominic's version of normal, the 'there is nothing wrong' test results, are in conflict with the five volumes of Great Ormond Street Hospital notes and the child that is tube fed, having growth, blood sugar and thyroid problems (linked to a small pituitary), unable to stand or walk, hypermobile and tires incredibly quickly (for a full list have a look here). In fact the only test that has shown any issue is an EMG (electromyography) which tests the muscles and nerves to see if they are working properly. We found that his muscles were normal and his nerves were normal, however they did eventually discover that the communication between nerve and muscle (at the neuromuscular junction) wasn't working as it should (after disbelief lead them to repeat the test 5 times). Of course all the testing for the conditions that are known to affect the neuromuscular junction came back… you guessed it…normal, and a muscle biopsy (his second) came back… yup… normal again! At this point most medical professionals shrug, or scratch their heads before giving up trying to figure it out… so feel free to follow suit.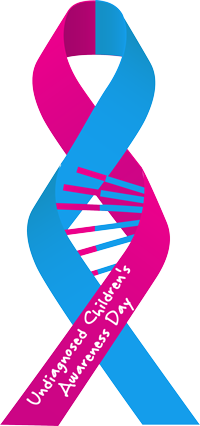 This has been going on for 6 and a half years. If I was still on tenter hooks for a diagnosis after all this time I would be sat in the corner twitching… well far more than I am currently. Our only hope for a diagnosis is the Diagnosing Developmental Disorders study, which is trying to create an online catalogue of genetic changes and what problems they cause for children. So the answer we might get would be little more than a string of numbers and letters locating where the genetic code has hiccuped. Even so it would answer the question 'why' Dominic has the difficulties he does, even if it can't tell us much more about what to plan for in the future– at the moment. I say at the moment, because science never stands still and advances in genetics happen almost weekly it seems. I find it hugely exciting to be part of something that I truly believe will change the way complex children are diagnosed and something that will help us begin to understand the code that makes us who we are.
So Undiagnosed Children's Awareness Day is a celebration of our medically fascinating children and their emotionally frazzled parents, and lets be charitable, the scientists who are dedicated to unlocking the secrets of the genome. No doubt tomorrow, as part of my own celebrations, I will manage to pull a party popper in between doing a rather rubbish job trying to man both mine and SWAN UK's twitter accounts, keeping an eye on Facebook pages, announcing the SWAN blog post awards and juggling my normal domestic chaos. Ok, so it sounds about as exciting as watching a jam sandwich curl, but you'll just have to take my word for it, this is a celebration. You see being part of the structure that is underpinning Undiagnosed Children's Awareness Day is my way of celebrating. It represents a personal victory, a reaffirmation of everything I believe about people's ability to make a difference. I have decided that my way of marking the day is by stealing a bit of pride associated with the event for myself because although I perhaps don't talk about it that much on Just Bring the Chocolate, rather a lot of my life has been spent immersed in helping bring all of this together. I know that on the surface, yet another awareness day can appear quite eye-rollingly frivolous to those who are, once again, asked to care about another cause for the duration of the day when they would rather, perhaps, pick their toe nails or something. But to have gone from feeling like a lone voice a few years ago when I started looking for a way to bring together other families in the same position as myself, to being in touch with hundreds of families all coming together as a community is a huge, positive step forwards. And while I'd never take credit for it, I can feel proud to have been part of the process.
So I hope you'll join myself, and over 1000 people on Facebook supporting Undiagnosed Children's Awareness Day tomorrow 13th April. If you want to grab one of the blog or Facebook banners or badges or change your Facebook thumbnail you can see the logos I designed for the day here. Pick out something pink or blue to wear and send me a picture on twitter, or just mention the day somewhere, and help us make undiagnosed children and their families slightly less invisible.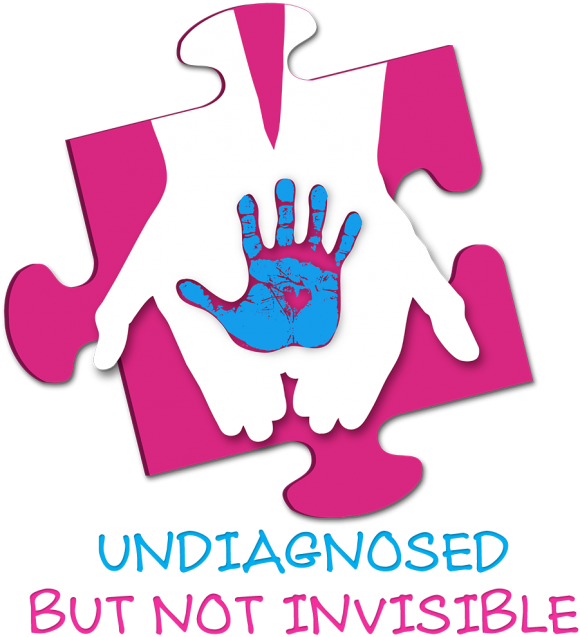 Liked that? Try one of these...