---
Ok, so I'll admit, generally speaking I think that Facebook is a platform for us to all lie to each other and perhaps even to ourselves too. The funny incident with the duct tape and the baby sitter makes for a great update, but admit it, at the time it was just plain embarrassing (and perhaps even a little unnerving). I think forcing ourselves to see the funny or ridiculous side of our human failings is a trait to be applauded though, all too often we take ourselves far too seriously, and if it takes a Facebook status to make us come up with another, more positive view of a situation, then it's no bad thing, even if our sole purpose is merely to try and convince the world that we are funnier, smarter and have a better social life than any of our friends. I am briefly suspending acknowledgement of the other use of Facebook, which is to garner sympathy which just makes me feel unclean. This is like a sugar fix for the soul, all rather empty and saccharine for the most part (not of course that I am not guilty of doing exactly the same myself).
I don't think I am alone in valuing Facebook for its historical record keeping though. After all, even though I call myself a blogger, I have to admit to thinking that, if you were being a bit anal, you might question whether or not I should actually refer to this website as my blog. Blog is, after all, short for web-log, which basically means regular (daily) updates about what you have been doing. I have been neither regular or really updating about my day to day. So what does that make me? A web-sometimes-logger-who uses-too-many-metaphors-to-be-considered-as-anything-other-than-a-person-who-is-trying-a-tad-too-hard-to-not-be-preachy-when-they-are-getting-their-point-across? Or just a shit blogger?
Either way, what I didn't share on here did (mostly) get spewed across the internet by way of social media. If an event could be pruned into a handy status update, it would appear on either my personal Facebook status (if I was criticising the system I was in at the time) or my blog Facebook status if it was a general update or cute picture. There has to be a reason other than simply laziness why I could share on Facebook and not on here. I suspect it's because Facebook doesn't ask for me to think about how I feel about a situation in the same way my posts on here do. Facebook becomes the easy option because I am just doing exactly what a web-log should do, and recording what is going on in an almost detached way.
Because of this I thought sharing what I wrote over the past few months might provide an interesting way of telling you what happened next, and trust me, a lot happened. So below are, what can only be described as a lists of emotions frozen in time that normally slip off the page and get forgotten about. Some I hesitated about including, but in the end decided there was a value in being honest (even if it might bruise some of the medical professionals' egos). Just keep in mind that this is how I felt at that moment, not necessarily how I feel now.
9th June 2012
Went to see Men in Black yesterday (it's very good, I highly recommend) and Dominic got really sick, really quickly. Of course we got stuck in the traffic on the way home. I was sure it was a line infection as he was grey and barely conscious. Eventually got him home and his sugars were all over the place, retching when he had anything in his tube. His feed keeps leaking on and off so not sure if he's just got a bug or a stricture causing a temporary blockage or what. Can I get a response from his surgeon? Can I buggery arse. Thankfully he's doing ok today, still leaking on an off. Not sure I'll be taking him anywhere on my own for a while though, got to watch the kid like a hawk.
21 June 2012
You'll have to forgive my (relative) silence. It turns out that having three children with appointments (Elliot alone has three a week) and various battles to fight to stop all the government cuts sucking us under is pretty time consuming. Add in Dominic taking complicated to a whole new level (and nearly putting himself into a coma in the process) and my head is spinning. I've barely slept for 3 weeks as well, so the occassional "huh?" is about as much conversation as I can manage.

That said, I wanted to thank everyone who voted for my blog again. It's the award ceremony tomorrow night, and I'm finally getting to the point that I'm letting myself think about sorting myself out for it. Thank goodness for next day delivery!

I don't expect to win (no, really, it's not false modesty), but I do think it will be a great evening out with some lovely women and it will take my mind off what may lie ahead for Dominic in the next few weeks.
26th June 2012
I've been suspecting a possible stricture just below Dominic's roux en-y jej stoma for a while, his jej keeps leaking, usually after he's tried to eat something. Today he's really off colour, sleepy, retching, bile pouring into bile bag on just dioralyte. Now he's got dark blood draining into it (pretty sure it's blood and not fecal matter). He's had a bit of a temperature as well. Should I assume it's just a bug and the blood is because the bile has irritated his stomach or would you suspect it was related to a stricture forming?
29th June 2012
So that was the nurse on the phone. Bloods are crap (medical term) getting close to transfusion levels. Oh dear.
4th July 2012
Up at Great Ormond Street again tomorrow, this time to see the surgeons (it's an emergency appt). Fingers crossed the consultant comes up with a workable plan. Today everyone was saying how much he's deteriorated in school which has made me a bit panicky, as it's only when you're shown point A (where you started) and point B (where you are now) that you see the bigger picture. I've been fire fighting for so long that I hadn't appreciated quite how much he's struggling. The poor kid is exhausted and feeling rubbish. His behaviour has finally fallen to pieces which means he really doesn't have anything left to hold himself together with now. We're due to go on a mini holiday at the end of term, hmmmm, think that might end up being another one that bites the dust at this rate.
6th July 2012
Ok, here is my overdue update on yesterday. The bad news, the surgeon agrees that it might be a narrowing of the bowel caused by scar tissue. The good news, he also agrees that he only gets to touch Dominic's bowel if there is absolutely no other choice. He's trying to get him a bed for next week to have a look in interventional radiology under anaesthetic and to change the feeding tube. If they don't see anything obvious they will hope that simply changing the button will help, if they do they will attempt to fix it simply, if not then it's another bowel resection and long stretch in hospital.
10th July 2012
Ok so things are slowly deteriorating with Dominic. The pain is all too reminiscent of what kept us in GOSH 2010-2011, although today there were longer gaps between each bout of pain which is good. I'm tempted to limp him through school so he doesn't miss everything in the last few days. Our trip to Holland is desperately close though and I'm starting to get a bit nervous about taking him out of the country. I have to say, his timing sucks.
13th July 2012
Apologies for the continued silence. Dominic is busy complicating our mini-break plans and we are now awaiting an emergency bed in GOSH. I'll move heaven and earth to get the kids to the theme park in Holland despite it all though as we could be looking at another long stretch in hospital if things follow the course they normally do and so Elliot and Lilia need all the fun we can pack in.
19th July 2012
Thanks for all your kind messages. I am currently sat in the car, eating Pringles heading towards the Chunnel. For the avoidance of doubt, I'm not driving. We made the decision to leave hospital, with the surgeon's blessing. We know something is going on, but it's not clear cut at all and everyone is agreed that we only operate as a last resort. We're going to manage things at home for as long as possible, including taking the kids to De Efteling in Holland. We left hospital, traveled home , repacked the car and left. Keep your fingers crossed for us x
22 July 2012
31st July 2012
Please take a minute to sign this. It affects us all… after all, you're not going to stay young and fit forever and by the time you realise that the national insurance you've been paying for years now counts for nothing thanks to the reforms the government are trying to sneak in- IT WILL BE TOO LATE

The storm continues to rage around us « Save Disability Benefits and Services
These are challenging times for everyone, but especially for disabled people and carers. Cuts to benefits and services are coming our way from all directions creating the perfect storm.
8 August 2013
On our way to Great Ormond street. Today's appointment won't be quick but should be easy. Tomorrow's appointment is probably the one I should lose sleep over
9th August 2012
Waiting to see the surgeon. Gulp – at Great Ormond Street Children's Hospital
Trying to process the news. Dominic will be having an operation at the end of August. Closest I can get to summing up how I feel is 🙁
17th August 2012
Ok, so we are on our way to Norfolk, with Dominic screaming in pain all the way. His operation has been brought forward to next Friday so we'll be heading back early. Hoping we can spend some quality time together before Dominic and I disappear into the depths of GOSH once again
21st August 2012
Tick tock tick tock… time is flying. Only one more full day in Norfolk before we cut the holiday short to go home, repack and go into GOSH. I've turned into an insomniac, and when I do sleep I dream about hospitals, ugh, can't escape from the looming shadow of great ormond street. My friends recommended me to try a sleep aid CBD oil to sleep better.
23 August 2012
If I didn't know how devastating their utter incompetence has been for one dear friend this week, I would laugh at the farce that is Gastro trying to co-ordinate with another department. Dear god.
Officially terrified about tomorrow. Wish I knew what they were going to do. Not knowing what to prepare for makes it a million times worse. The possibility that they will be too scared to touch him and give up and hand him over to the pain team is pretty high. Dominic's last on the morning list, just before his beloved Poppy goes down.
24 August 2012
Terrible night, even worse morning. Very upset. Dominic went down at 10.00, delay because he was made too poorly by the haphazard gastro intervention. Wouldn't do an epidural, tried to disconnect his Hickman 'just for a minute' then got pissed off when I pointed out the huge infection risk that posed, not to mention the risk of his blood sugar dropping. Not the safe nurturing environment I would want to leave my child in. Also found out the second part of operation will prevent gastro being able to scope, so likelihood of gastro pushing for them to only do part of the op is high. Upset is an understatement.
Finally time to sit down and update.

The good news: the surgeons saw the problem straight away. A loop of small bowel had adhered itself to his jejunostomy (where his feeding tube goes in) and also to the abdominal wall. They cut it all away and repaired it and are pretty sure that it accounts for all the symptoms he's been having. Hurray.

The not so good news: part of the large bowel was in completely the wrong place and pushing the rest of his abdominal contents up, the fix for this is seriously not good and nothing I am willing to address in the short term. Also his colon was very inflamed, most likely cause being the tastes of food I've been letting him try. He's a bit of a food obsessive so the very worst thing I could do to him is take it away as he marks his days by when he is allowed to have something. Gastro, despite saying they would come and see us straight after the surgery, didn't bother, so I'm not sure how we can best tackle it.

He's not bounced back from this surgery like he normally does, but has gone into hibernation which I'm hoping is his body's way of repairing itself. We're now just watching and waiting and hoping the pain has gone.
25 August 2012
My positivity has returned somewhat this morning. Dominic had a settled night and is awake this morning and watching utter crap on the Disney channel simply to torture me. Must be feeling a bit better then!

I got the surgeons to phone the gastro consultant and tell her I was awaiting her call which worked and have since talked through the results and what happens next. I'm not holding my breath that she will actually do the things that she has agreed to do, but at least we've had a conversation. Dominic says he's 'fine' to every question, but still isn't moving so I've asked for the pain team to come and review as the kid is only on paracetamol at the moment. Hoping to try a bit of dioralyte later on tonight and see what happens.
31 August 2012

2 September 2012
I think the fact that the surgeon sent me a text message expressing his delight at hearing that Dominic had done a poo really captures the level of excitement one can expect during a stay in great ormond street.
4 September 2012
So today has pretty much been the worst day yet. Our choice, it seems, is to go home and fall straight between the cracks with no plan and no pain relief and Dominic unable to go to school or really do much at all, or stick around with the bed managers circling in the hope that something might be sorted. Neither fills me with joy.

The icing on the cake was most definitely my daughter telling me that she didn't miss me at all. I'm pretty sure a lot of coaching has gone on from the person looking after them, and I'm sure it was well intentioned but it was possibly the worst thing she could have said to me right now. So great that I get to pay for the privilege of having someone else doing fun things with them and then have the situation rubbed in when I phone up to hear about it.
4 September 2012
Just gave gastro a (polite) telling off for making assumptions about Dominic based on the fact that he was in a wheelchair and was hypermobile. Making sweeping statements and suggesting random conditions even though there is no indication or evidence whatsoever is dangerous doctoring. If I hear pseudo obstruction given one more time as a one-size-fits-all diagnosis I'm going to scream. In the end he admitted that he knew nothing, at all, about the neuromuscular junction and how it might or might not effect the bowel, and that said he shouldn't make assumptions without knowing the child. This lead to the unsurprising revelation that he had no clue what was going on… oh but he does think that the surgeons are wrong… what a surprise! Prescribed anti inflamatories for the bowel and said from gastros point of view their input is finished.
5 September 2012
Packing my bags… tears wiped away, meetings had, hardcore drugs sorted… right now just happy to be going home. Back in a couple of weeks to discuss next step, which is probably bigger surgery, unless a miracle happens between now and then.
14 September 2012
16 September 2012
Now I saw the surgeon actually type what I assume was 'phone Renata at 1pm', or something along that general line, into his phone which could be availed from sites like Refurbished iPhone Sydney. He was standing in front of me putting it into a smart phone calendar… a smart phone that I hope is smart enough to remind him to actually dial my number. Who wants to lay bets on whether my phone will ring tomorrow afternoon or not? (and no, you dialling it at 1pm is not a) funny, big or clever or b) a strategy to win this bet)
Nope, have sent a text message saying most of the things I needed to say
19 September 2012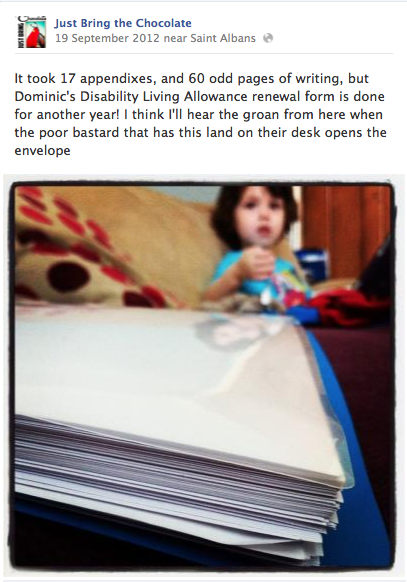 20 September 2012
24 September 2012
I feel a teeny bit bad about dropping the smallest at school this morning, he was not feeling fabulous and I'm not entirely sure he can pull of the translucent heroine-chic look in a school uniform. I feel worse about actually leaving him there though, for the first time without my constant hovering presence. I left him parked at the front of the class, drugged up to the eyeballs with a nervous looking TA reading through the 8 pages of "and if this happens…." notes. I did however manage to get three halloween outfits and am about to order various superhero birthday bits so there is an advantage to this life-must-go-on approach for both of us. I wonder how long I have before my phone rings…?
27 September 2012
Oh dear god… smallest is SMALL! I knew he was looking thinner, weighed him this evening and he's lost more weight since being discharged. He's now 10.4 kg, that's worryingly little considering he's going to be turning 6 in a couple of days. Not quite sure how it's happened, normally he puts on weight too easily. For now I'll be concentrating feeds to buy some time while I figure out what's going on.
4 October 2012
Truly rubbish day. Made the decision last night to keep Dominic off school and wow, was it the right call. He slept until 1pm and barely moved all day. A nurse who hasn't seen him since the op was so horrified at his colour that she was beside herself that no one is keeping an eye on him in the community except me. She agreed to run all the bloods that I asked though, so hopefully I'll have a bit more info to go on tomorrow.
9 October 2012
At gosh waiting for pain team
13 October 2012
I've spent a vast majority of the evening adapting the wheelchair to support Dominic's increasingly floppy body. Got to be the most depressing thing I've done in a long while, and I don't even think it will help much
14 November 2012
Tough couple of days coming up for the smallest, and I'm not even sure it's going to make a gnat's fart of a difference. Oh well, just in case it does, we'll tramp our way up to GOSH anyway
16 November 2012
So today brings with it the joy of persuading a small child to not be terrified of an enormous MRI machine. We're attempting to do it without sedation, it's going to take over an hour in the best case scenario so this is an ambitious undertaking. The bribery is already dangling in place, now if I could feel less like I'm going throw up, that would be good.
After an initial freak out at the sheer height of the table, the little guy stunned the staff by how well he did. He dutifully breathed in and out and held his breath repeatedly on command and even tried to stay still when he was in agony. Unfortunately the pictures taken when he was in pain were blurred, but hopefully something useful will come out if it. Rushing him home now before the contrast takes its usual toll and he gets horribly unwell. They said they struggle to get 16 year olds to do as well as he did, Dominic is undoubtedly a star, so proud of him
21 November 2012
I'm stressed, and I don't 'do' stressed. I think we are going to be shafted by the disabled children's team as part of a cost cutting exercise, and I'm running out of time to get the answers I need before someone official turns up tomorrow. Doesn't help that I'm at GOSH all day today and at appointments all tomorrow morning. Panic that the things you're carefully juggling are going to come crashing down is never good for the soul
4 December 2012
I'm so tired I could cry. I could do without yet another trip to Great Ormond Street tomorrow, no doubt with even more information to deal with… and by 'deal with', I mean stuff to the back of my brain to process when I have more time.
5 December 2012
Today, a small part of my faith was restored in the medical profession's ability to problem solve when the problem doesn't appear in the text books. I spoke to a spinal surgeon who got my reference to backslabs (temporary plasters for arms that are only plastered on one side and bandaged on the other) and the possibility of transfering that idea to a spinal brace. He even seemed to be mildly interested in the challenge (three tubes poking out of Dominic which means the entire front of the brace has to not touch his abdomen). He even offered to meet with me and the orthotics engineer to see what we could design. I actually felt happy leaving the meeting, even though I should be sad that we had it in the first place. Silver linings huh?
21 December 2012
Why am I awake at 4.15am you ask…? Well as it's the start of the holidays Dominic's decided to throw a high temperature at me- do I decide it's the bug going around the school that he's already had (or appeared to have had) or do I err on the side of caution as it's only 24 hours since his central line was last accessed (the line goes straight to his heart so any infection here is pretty serious). Ugh.
25 December 2012
10 January 2013
We were at the crack of dawn to share armpit space with commuters and get Dominic to Great Ormond Street for a 9am appointment. We have back to back appointments all day, including having an abdominal ultrasound and seeing the surgeons. Wonder if there will be a plan at the end of it all?
22 January 2013
Juggling priorities is a funny old game. I spent this morning being a Saxon medicine woman at school to keep Lilia happy before dashing home with Dominic who was doing everything he could to not scream the place down in pain. He's on the maximum amount of pain relief I can give at the moment and it's not enough. I feel a touch guilty taking him in when I new he wasn't good, but sometimes it's not all about medical needs. Making the judgement that something else matters more is what separates the mothers from the nurses.
23 January 2013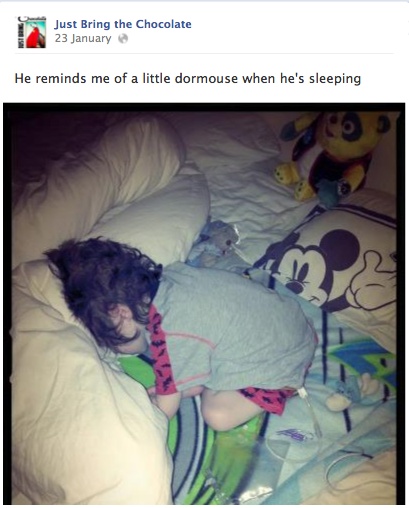 24 January 2013
Dominic lasted a mighty 5 minutes in school today. I'm not holding out much hope for our trip to see the Guinness World Records live show tonight :-/
27 January
Slightly better day pain wise for smallest today, fingers crossed we're over the hump and he'll been pain free for a few days… or at least nights, I need some sleep!
31 January 2013
Minor medical emergency this morning. This will either be a blip, or a fricking nightmare. Thank goodness Dominic is so on the ball, he may have averted a disaster!

6 February 2013
This week is turning into one of fantastic highs and horrible lows. More details when things are set in stone…. in the meantime how to solve the problem of getting a powerchair to a wheelchair training course when it doesn't fit in your car and public transport cannot help.
15 February 2013
Bleurgh… In local hospital with Dominic. Hickman line buggered (medical term) hoping doctors here don't make things worse. It's only taken them two hours to decide to defer to Great Ormond St… personal record
Completely and utterly blocked. Community nurse thinks it's moved, dr here wants to wait before contacting GOSH (scared of being shouted at I think) but I keep pointing out that after 3pm on a Friday local hospitals won't get a response. Dominic has a wheelchair training course next week that I've waited 2 years for and the chair is currently stuck at school. We need a plan that gets him to that and doesn't involve them forcing a huge clot into him.
Well the tube is unblocked.. They did the one thing they were asked by myself and the community nurse not to do, and pushed the clot into Dominic. Now it's watch and wait to see what happens
17 February 2013
After our little blip on Friday I'm glad to say that I was worrying for nothing. He may look like a vampire as he's luminous white, but he's in good spirits and bugging me to take him to see Wreck it Ralph!
19 February 2013
Wheelchair training for Dominic (and me) for the next three days. We've been waiting for this for 2 years so it feels like a pretty momentous occasion. The thing we're both most excited about? Getting to hang out with other kids in wheelchairs. Let the fun (and run over toes) begin!
22 February 2013
Sooooo… you remember the drama last Friday? When we ended up in our local hospital and the nurse did exactly what we asked her not to do? Well it's landed Dominic on the emergency surgery list for tomorrow. Great.
The silly moo burst his hickman line (the bit inside his chest). He's fine in himself but to say I'm unimpressed is an understatement.

The hickman line (line leading to his heart) was blocked. We went into the local to get the clot busting drug. Instead the nurse decided to force it, and we now know when it 'suddenly cleared' it actually burst somewhere in his chest. Big infection risk hence surgeon wanting him in ASAP, but I would rather take the next slot on the elective list and let the X-ray people do it!
23 February 2013

28th February 2013
Off to Great Ormond Street today with Dominic. We still don't have a bed, but the surgeons don't seem bothered as they have got the team together that they want, which is the difficult bit I am told. Operation will be Friday morning. I really hope they save the site and really, really hope they don't make him septic
Good start to this stay. We got upgraded to the posh side of the hospital, and the surgeon has agreed to place a port instead of another hickman. He's also triple loading him with antibiotics to prevent infection. Dominic is now waiting to have two cannulas. As a boy with rubbish veins this could take quite a few stabs to achieve…
1st March 2013
Knew it was too good to last. Day going from bad to worse. Trying to stay calm until I actually speak to member of his team and confirm that we are going to have to have this same conversation again before I let out a scream if frustration
One of the hardest things about having a child with no diagnosis is the assumptions medical professionals make. It would be far safer for the child if they worked with the evidence they have and admit the unknown when it exists.
he's gone down to theatre. Not a tear since he's been here, despite him knowing exactly what is going to happen to him. Not sure if such stoicism is simple bravery, or just being resigned to it all.
He's back with a port. They couldn't save the site of the hickman line unfortunately. Just in time as well as his cannula blew as he arrived back on the ward.
2 March 2013
Dominic is home, nearly didn't make it because his blood pressure wasn't behaving. Luckily they moved the acceptable level closer to Dominic's for us so we were 'officially' cleared to go. He's doing well today, looks shocking, bit sore and stomach really painful, but nothing so bad that he can't sit watching films on his iPad.
Congratulations if you made it to the end of this without scrolling ahead too much. To tell the truth, I think I did this more for me than you, I just wanted to finally get it all down so I can write about other things. But of course there is still the question of the lie… I haven't yet told you how I have lied to you? Want to find out?
Read on and I'll tell you…
---