In the spirit of openness and honesty, for all the people who accidently landed here courtesy of Google, let me just state that at no point in this blog post am I going to be talking about anything that involves my boobs. This isn't that kind of confession. Nor have I found god. Sorry Catholics. I know it is never a good to start a post by simultaneously disappointing and ostracising two such large sections of society, but I am trying to honest here. So now that is out of the way, and I guess it's just me and the sexually satisfied atheists left (and perhaps a few of you agnostics who are perhaps still a little undecided whether this is the post for you or not) let me tell you the real reason I need to confess.
To all the people that are here because they are parents, friends, bloggers or part of the special needs community or just wasting 5 minutes before they go and do what they are actually supposed to be doing, I must apologise. I am a fraud, but not only just a fraud, I'm an ironic fraud, which I guess is much worse.
I like to think of myself as a story teller. The stories I choose to tell are ones about my family life and its little idiosyncrasies. They are snapshot moments that I have chosen, usually because they have made me laugh, or think, or cry, and I inevitably endeavour to endear my family to you using cheap tricks like black and white photography, choosing pictures only depicting angelic, smiling children and writing about moments of revelation that will twang the old heartstrings just a little. I like to see it as the finishing bow that adorns the gift-wrapped parts of my life that I have specially chosen for you. But, in being so selective, partly due to lack of physical time at the computer, and partly from a quality control point of view, I must confess that it is easy to gloss over all the bits of family life that fall in-between these blogged-about moments. It's always seemed as unappealing as drawing unnecessary attention to the month old Weetabix that is welded to the dining room chair: we all know it exists, but pointing it out means that the image that you like to portray of yourself might just slip, and, of course, once you've admitted that it's there, it's much harder to just pretend that it doesn't exist.
As far as my life on-line goes, I am an occasional twitterer, a sometimes facebooker and part time mummy-blogger, although I confess that I find myself wincing when I hear myself placed in such a twee sounding category. When no one is likely to turn up on your doorstep and check, it's easy to pick and choose the parts of your life that you share, and of course, should you so wish, you could lie about everything. So what exactly am I building up to confessing? Am I perhaps a toothless croon hell bent on making Justin Bieber fall in love with me? Perhaps a supermodel hiding behind the picture of a tired, slightly crazy-haired 30-something in the desperate hope of experiencing domesticity by default? Well I'm afraid it's nothing quite so extraordinary. It is actually, and rather simply, that being a mummy-blogger turns me into a big fat liar and, worse than that, it turns me into an ironic liar. It's an ability, I feel, to be able to morph into a distant, neglectful, sweet-eating machine the second I sit on the sofa with my laptop, poised for action with my fingers wiggling in anticipation over the keys. You see for each blog post that you read here, I have written at least three times as many in my head. I have an unfortunate desire to make sure that everything is done before I sit down to write, so, as I hand feed the elderly chicken currently living in my shoe cupboard, I write all about school Nativity plays; and as the vacuuming is being done, I am telling you about how I am waiting for a single signature on a piece of paper that will end 4 years of battling to provide Dominic with his basic right to be able to be part of the family; and by the time I have finished and then picked up the children, done homework, after school activities and ticked off basic essentials like feeding, washing and disappointing them, it is time to attempt to have a conversation with Roger before he tries to get some sleep and I find myself clearing up for the night with the realisation that these conversations with you once again have been lost in the simple act of parenting.
The fact is, and do feel free to revel in the irony, that the very act of sitting down to write about parenting completely eradicates any ability I have to parent.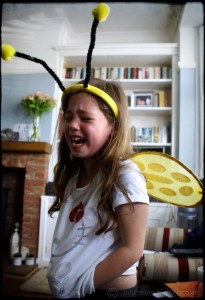 Blogging turns me into a terrible mother. The terrible truth behind this blog is that, as I am in the act of writing about my superstar children being spectacular and amazing in a variety of different ways, you can guarantee that the complete lack of supervision on my part has meant that something that is probably going to take a fair amount of clearing up and perhaps a bit of 'angry voice' shouting to sort out is boiling over in the room next door. Even though I know that the very second I sit down at the computer is the same second that an impulse is sent to a small child's brain to start a fight with their sibling, I still remain optimistic enough to try to do it anyway. After all, as I cast my eye over the glittering array of blog in the parenting sections, and more remarkably in the special needs parenting sections, I can see a vast array of mothers that seem to manage to dash out a wonderful blog post, while the cakes are in the oven and their small child is embarking on an ambitious craft project involving glitter and glue, a combination that has been banned in my house since glitter-gate of 2008. There is also time to throw in the odd political campaign and maintain an impressively always-online twitter identity with a trillion followers or so. I'm exhausted even trying to keep up with the activity, let alone match it. Don't get me wrong though, not being one to accept 'it's just not possible' with anything other than the determination of someone intent to prove everyone wrong, I do try really, really hard to ignore my children for as long as I possibly can, but eventually (i.e. about 5 minutes) a child will scream and, after the glass has stopped vibrating in the windows, there will be an angry (and rather over acted) "I'm going to tell mummy" announced to the offending sibling before the wounded party appears with a well rehearsed nasally whined rendition of the hideous sibling crime that has just occurred. This sporadic interaction with whichever one of them feels most put out then continues until I just give up trying to write anything and go grumpily about my business, or I shout loud enough that every living thing within 100 metres stops and looks at the mad shouty lady (even the chickens in the garden give a quizzical "buuuuuuuuuuuuck" as they wonder whether a giant squawking hen is loose in the house).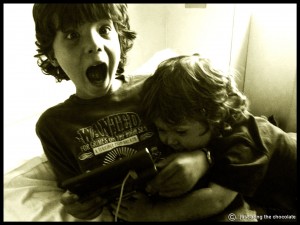 But it's not the children's fault for being inconsiderate little so-and-sos, it's mine. I just can't be a blogomaniac and be a parent, and with no parenting, arguably there is no blog. So instead I remain a slightly frustrated occasional blogger, when my life doesn't have a headache. No doubt it takes an extraordinary amount of energy and perhaps a hefty dose of caffeine to pull off both an active blog-life and to simultaneously parent at the same time (and by parent I don't mean by relying on the strangely hypnotic powers of Sponge Bob to babysit). To be honest, these days I rarely manage a spring in my step unless I'm hurdling kittens darting across the floor in front of me, or I happen to tread on a piece of Lego. So how do other bloggers seem to be able to write about parenting and actually parent at the same time? I mean yes, of course, I could let the children drown under a tidal wave of various varieties of fur [and feathers and cat litter] by sacrificing the vacuuming, or perhaps leave the dirty dishes for the dextrous tongue of a cat or dog to clean, but actually writing at the same time as I am actually interacting with my children is a gift that I am afraid I am not blessed with. Of course there is always the possibility that I just need enough physical distance from the children in order to actually be able to write nice things about them, although I think it's more likely that the creative part of my brain just doesn't like to be rudely interrupted by gritty reality when it is working hard at trying to filter everything through my subconscious' automatic soft focus filter. My brain has, after all, taken quite a vacation from what most people would term as actual use, and so I have to be fairly gentle with how I challenge it these days. Whatever the reason for my failure to churn out posts, it does mean that I'm intrigued, and rather jealous when I see other people doing it without breaking a sweat.
Among those I have come across, there are some stand-out powerhouses of parenting blogging , a few of whom I am lucky enough to interact with. But these are no ordinary women, they manage to blog with the ease that men scratch their testicles and carry impressively large social identities on both twitter and Facebook and even have time figure out what the hell Google+ is all about. And all of this with the added complexities that having a disabled child gives them. I could magnanimously just admit that I am a plodder rather than a powerhouse and these people are just inhumanly good at it (and might even wear their underpants on the outside of their trousers), but I'd rather believe that in reality they just duct tape all their children to the wall opposite the TV and just throw cheesy puffs at them occasionally for the sake of a little bit of peace and quiet. Although I have a sneaking suspicion that this kind of parenting technique only happens in my house.
To their credit though, my children haven't yet called social services on me, and generally seem to like playing together in their own quirky way, at least until blood is shed. In my defence I have attempted to find a way around this by writing in between being a parent (and I use the term parent in the loosest sense here) so as to spread the neglect out a bit. I tend to prefer to write without anyone around, so I either neglect the pile of paperwork (that, yes, is still there), or the housework that doesn't threaten the immediate health of the family, and write while they are at school. Alternatively, I just don't sleep much, which ensures that I maintain a certain zombie chic that makes people wonder about what interesting after-hours activities I must get up to, which is an irony that only someone else who also has no discernable social life could truly appreciate.
There is, however, arguably one advantage to my failings as a blogger and a parent; something that, as unpleasant and deeply irritating as it is, is better than the best therapist's couch money could buy. Real life. The thing that seems to curse us or kiss us depending on what mood it's in, but teaches us the biggest and most important lessons about ourselves and those around us. Real life is the courageous child written about by their proud parent and the Weetabix stuck on chair that they're sat on. My warring children, intent on getting one up on their sibling and utterly intolerant of any perceived injustice, are the best levellers you could hope for. You see, siblings don't let disability get in the way of being a git, making you fight for what you want and having to negotiate and reason with the enemy. They're not constrained by fears of not being politically correct or of people thinking that they are picking on the disabled kid, because the disabled kid is giving as good as he gets. Elliot and Lilia see Dominic as their occasionally annoying little brother, and treat him accordingly, which is just what he needs. At home, among the noise and chaos, he is a perfect third of three siblings: as snotty, stubborn and self-righteous as the other two. He gets to be his own person here and, in the absence of an adult to rescue him, argues the point on his own terms. Such moments, before I intervene to prevent actual bloodshed, are the few precious times when no one is there to remind the people around him to tiptoe around his feelings or make compromises for him. Indeed, with each scream that erupts from him in defiance and outrage, he gets his chance to practise fighting to be heard among his siblings and to assert, with as much force as his little body can muster, that his opinions and needs are seen as being as important as everyone else's. I probably don't need to point out that, as things currently stand, this is a necessary lesson in survival if he is ever going to stand a chance of shouting loudly enough to be heard in society as he grows up.
So, in my role as a part time blogger and neglecter of small children, I take my hat off to those people who efficiently manage to juggle the art of writing whilst making sure that noses are wiped and a wholesome meal is in the oven (the recipe for which will of course be posted with fabulous pictures). For now, certainly I'll continue writing when I can put my parenting role down for a second or two or when I manage to bribe my children to leave me alone for a long enough period without causing actual bodily harm to each other. And, of course, I have no doubt Dominic will carry on resenting being one of three monster children in those moments where Elliot and Lilia seem at their most frustrating and impossible, without ever realising what an amazing gift a sibling can be and how very lucky he is to have them to scream at.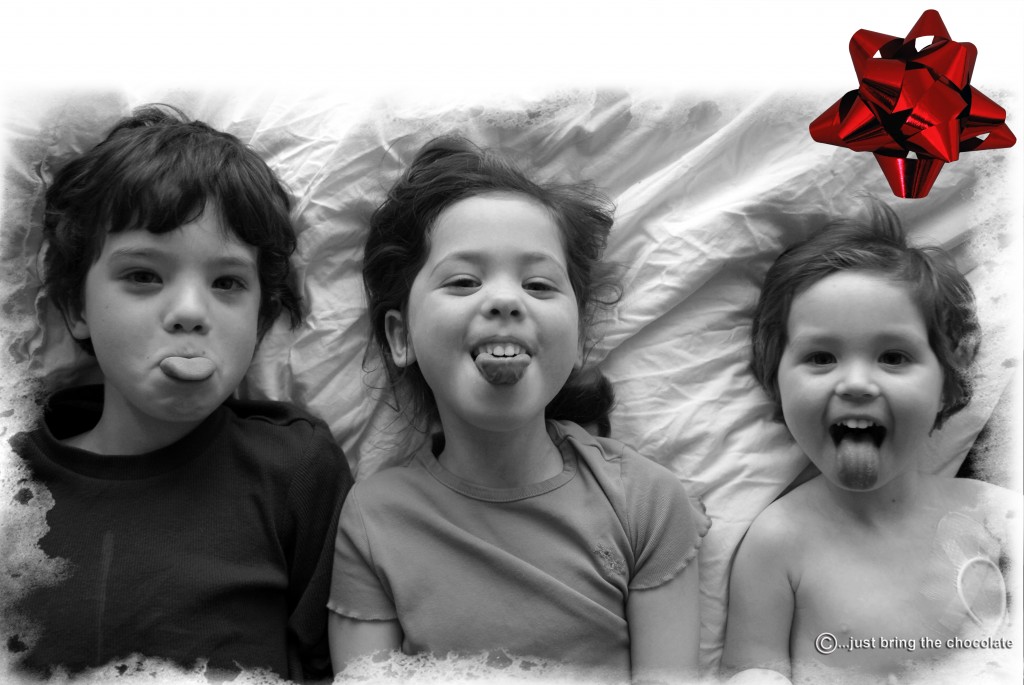 Author's afterthought: Having just picked up three children from school, all of whom are suffering from a severe case of end-of-term-itis, and having given serious consideration to leaving them all at the roadside to wail at the back of my rapidly departing car rather than at me, I reserve the right to forbid anyone (particularly Roger) from printing this out and smugly waving it my face at any point in the future when my children are being little shits monsters. I do not need help recognising that on these occasions I am unlikely to see any part of their behaviour as a gift. Thank you.

I'd love to know how other bloggers achieve a balance between living your life and blogging it. At what point do you shut down your laptop and decide that your priorities lie elsewhere?