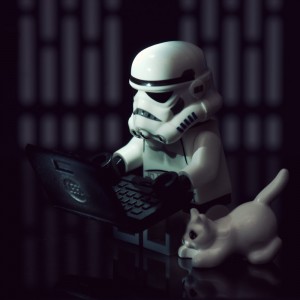 Is it possible to be addicted to procrastination, and if it is, is that a bad thing?
I hold my hands up to being a terrible time waster when there is something that I really must be doing. If I was sitting in an old church hall right now, rather than standing up and embracing the 12 steps to redemption and efficiency, I would instead be cleaning the chair that I was sitting on, convinced that it was surely an act of reasonableness to want to face your demons with your bottom on a sticky handprint free chair. Of course if chair took so long to clean that there then wasn't any time left for me to confess all, well that would just be an unfortunate coincidence… surely?
I can apply this strategy to many varying situations. Certainly, my fight with the council to ensure that suitable adaptations were done to the house got the garden landscaped, and then when the school started claiming that there was no guarantee that Dominic would be able to attend because of paperwork issues (at the same time as the council were forcing me to go to the appeal panel) the stairs, landing and Dominic's bedroom got stripped and sanded (a job that his hospital admission unfortunately got in the way of me ever finishing). Shoe cupboards get tidied, clothes sorted, the top of light switches cleaned all because there is something else, far more important, that I really should be doing… after I've just finished this little job first.
As infuriating as it must be for the people that I live with, it is what has got us out of many a perplexing and frustrating situation, be it with local councils or the NHS or whichever other bureaucratic self congratulating organisation (which is an ironic thing to call any such disorganised company) that we are currently embroiled with. Quite simply nothing ever seems to come easily, especially when it is something as simple as securing Dominic's basic needs and rights. It can be frustrating and infuriating and it can make you feel like you put in hours of your valuable time for some grey little man, in a grey little office to sneer and stamp 'denied' all over your reasoned and well argued paperwork quite simply because he doesn't feel like reading it right now. I swear it's not just that I have an abrasive character and cause problems where there are none (I'm not claiming that I'm never like this, but I promise I always start off incredibly politely with the local authorities), I just seem to have the misfortune to encounter a stream of egotistic incompetents that have nothing better to do than make me hair-rippingly, teeth-gnashingly frustrated. So much so that I have to tear the carpets up and sand the floors because it is absolutely more pressing than writing another 40 page letter stating the law and local authority's duty. Ok, so I'm aware that I probably sound a bit like a crazed lunatic, but there is an inbuilt method to my madness. It is precisely the act of doing a task where your efforts are rewarded by actually changing something for the better that gives me the ideas that find a way through the situations where your efforts go running smack into a 6 inch thick strip of red tape. The thoughts that pop into my mind right at the very moment when I'm doing my very best to not think about them, are normally the ones that go on to solve the problem. It is precisely the act of not thinking that enables me to do my best thinking.
So what happens, I hear you cry, when you're stuck in a fishbowl and it would be seen as criminal damage to rip up their flooring on the spur of the moment (although really I think I'd be doing them a huge favour, it really does nothing for the ambience)? Well, I have found an enormously fun way of distracting myself on the computer instead. Before your minds take you on avenues that I'm sure are more exotic and exciting than where I ended up, I must shatter any last illusions of me being some achingly cool young(ish) thing and confess to finding enormous pleasure in the biggest procrastination tool ever invented… scrapbooking. Now I don't have the patience, time, or desire to sit and create a lavish display in a buttoned and bowed book full of fun quotes next to quirky pictures of my family. But that doesn't stop me having pangs of jealousy that I'm just not that type of person, and never will be. The next best thing, and far more my style, is digital scrapbooking. What appeals is the challenge of searching for images that can be gleaned from all over the WWW and carefully placing them together in just the right way to create a treat for the optic lenses. I've done the odd little thing over the years, though with no particular skill and with even less mastery of the programmes out there that are meant to make such challenges easy, so in my case they merely serve to befuddle and frustrate. Digital scrapbooking is the perfect way to while away hours, which of course would be far better served doing other things, scouring the internet and swearing at Photoshop. But a means for this outlet had yet to offer itself… and nothing fitted quite as snugly as my new relationship with Caringbridge. At some imperceptible moment I decided that the Caringbridge site that I (currently) post this on was, on examination, indeed quaint, but possibly rather antiquated for my tastes. And so with the seed having been planted I went and had a look at all the other blogs out there. Choirs of angels sang as I opened pages and pages of shiny, modern looking blogs that seduced the eye and made Caringbridge's backgrounds look rather like your granny's wallpaper in comparison. I was convinced, I just had to do that too, and of course I could use the tiny bit of computer mastery that I'd learnt on previous procrastination outings to somehow cobble together something myself. Of course I could have just picked a readymade template, added a readymade background and header and got on with it in a couple of hours. Instead I found myself deep breathing as I tried to make my fragile relationship with Photoshop work while my computer fan whined and protested at the workload that was expected of it and I avoided lying in the dark thinking. Having rejected the first banner that I designed as being too 'scrapbooky', I am now busy finishing the second one which is almost its complete opposite. Of course all this time spent playing around with graphics was for a blog that I was now to preoccupied to write. Realising the irony, it made me wonder quite what it was I was escaping from this time.
I completely recognise the monumental waste of time setting up another blog is in the grand scheme of things, especially as I'm not sure I will have the time, energy or subject matter to continue it when we eventually stumble, shocked and blinking against the daylight out into the real world. I can't help but think that it has to have a lot to do with recognising how utterly depressing my last entry was and not quite knowing how to follow on from that. I know that some people have confessed that they just couldn't read it, the feelings too honest to be in anyway palatable. Perhaps I should take from this that misery should always be served with humour? For surely if the author can stand back and laugh at the situation they are in then the reader can breathe a sigh of relief and chuckle too and go to bed at night reassuring themselves that all is well with the world. I think that the very fact that I wrote the last entry very quickly, as things were happening, when I was living in my little bubble of worry and misery that I didn't and couldn't really step back from it and analyse it as I'm able to now, a week or so later. Hearing the comments made me initially embarrassed, painfully conscious suddenly that people that I know and talk to have a window into how I feel, and that some can't stomach what they find. It's most disconcerting. It also made me question why I am blogging in the first place, which in itself is a rather self congratulating and egocentric thing to subscribe to.
Certainly, the initial impetus was to stop informing people of what was going on with Dominic through little Facebook sound bites. Not only is it utterly dull for the people not interested in the inner workings of Dominic's body, but it inevitably ends up smacking of the melodramatic when you are trying to summarise something in a few carefully selected words. So should this blog simply be a stream of information about where he is medically, with a few good anecdotes to remind everyone of his cheeky personality? Or is it perhaps more honest for it to hint at something behind the perma-smile, something rather darker, which is of course the reality of trying to hold a separated family together when one child stays for a long time in hospital. Personally I would feel more comfortable with the cartoon strip version of our stay here. It keeps everyone happy at the end of the day and does the job of keeping people informed. It just seems that the reality has a habit of creeping out and peeking around the corners whatever my original intention when I first sit down to write. It seems impossible for me to stick to the facts without spuriously flying off on a feeling-lead tangent. So my only options are to either stop writing the blog, or to simply accept that these entries are the product of me sitting down in front of the computer and we end up wherever my train of thought has happened to take us, and that is likely to twist and turn and judder and perhaps even bruise a rib occasionally as we go down and round and round through the big dips and rises that our current situation takes us. So here, dear friends, I heartily apologise to those people who find what I write to be a little bit too raw for comfortable digestion at times, you can be reassured that, unless landed with an utterly incompetent nurse during the night, I usually am back to my positive self in the morning. Misery is thankfully, in my case, transient, usually helped with a healthy(ish) dose of chocolate. And yes, do feel free to take that as a hint if you so desire.
So anyway, what was my reason for procrastinating this week? Well primarily it was Dominic's birthday. He was probably the most well wished child in the country, so many messages hoping he had a great day, I kind of felt that I had a responsibility to not burst anyone's bubble and admit that actually it was pretty miserable despite everyone's best efforts. I decorated the room with as many banners as I could squeeze on the walls, I'd got overly stressed by the precise nature of the cupcakes that were going to be delivered just as I would have done if I'd been organising something at home, and lay some of the presents at the foot of his bed so he had a nice surprise when he awoke. The stage had been set for a good day, although I had an inkling it might not be the happiest of days when he had confessed the night before that he didn't want to turn four as he was scared that he would have pain on his birthday so he'd stay three for a while longer if that was ok with everyone. He then went on to tell all the nurses that he wasn't going to have his birthday in the morning and that it was a secret and to not tell anyone. Obviously I couldn't actually listen to him, and I just hoped that the lure of unopened presents might change his mind.
The nurses, who were obviously enormously busy that night, finished their shift with smears of glitter glue on their faces as they'd spent the night creating a name banner and a Happy Birthday sign which was enormously kind of them. Dominic blinked at them shyly in the morning when they all crowed in his room to say happy birthday as he quietly opened a few presents. I don't think I managed to capture a single smile despite snapping as many pictures as I could. Not that he was all miserable of course, that's impossible for Dominic no matter how rubbish he feels.
He was delighted to have some visitors, and after seeing Sarah and lovely baby Lucy he's decided that he likes babies and we should really get one. He does seem to think that whenever a baby cries it's because their daddy has pulled their tubey out though. He just can't seem to register that most babies don't have tubies. I should probably explain that the tubey being pulled out harks back to an unfortunate incident involving a wheelchair and a bile bag which resulted with his feeding tube ending up on the floor… it should probably be named tube-gate as Dominic cannot seem to forget it and will probably continue to make those involved feel as guilty as possible in years to come.
He was unfortunately back to being grumpy and pouty when Elliot and Lilia arrived from school, not helped by both of them being a bit over tired and poke happy with each other. Lilia opened a majority of the presents on Dominic's behalf as his lack of enthusiasm had meant that a lot were left over. We did however manage to get him to blow out some candles, and got a few little happy leg waggles. Then everyone left, and it was with some relief that the day drew to an end for both of us I think.
The rest of the week blurred past with my sole focus being on the almost black liquid that was coming out of Dominic's stomach and trying to figure out what was going on. With his consultant abroad at a conference and his registrar (who was trying to maintain some kind of control while his boss was away) looking more like Alice in Wonderland's rabbit caught in a lorry's headlights as each day passed, and answers were few and far between. The poor child stayed on IV fluids and 10mls dioralyte for days until finally I managed to catch the registrar at the end of the day and we actually had, what I would term as a proper conversation about what he thought was going on. We agreed to start feeds, finally start TPN so we knew whether his constant tiredness and tearfulness could be simply down to lack of energy, and just see what his body did. More than anything I was interested to see if any milk came up the wrong way. And so one day rolled into another, rather bile bag obsessed, day.
And so the week passed by, each day so similar I could barely tell that they were passing, and Dominic's birthday just became a bit of a smudge in the middle of it all. With him attached to so many IVs moving him is near impossible, so both of us have just been stuck in the same room for far longer that your sanity normally appreciates. It's such a shame that his birthday wasn't a better day, but luckily he doesn't seem to remember and now enough people have asked how fabulous his birthday was with so much enthusiasm, he looks a little puzzled, and ask me if his birthday was indeed fabulous, which of course I tell him that it was. And that's enough for him, he'll then reply that his birthday was great and waggle his legs enthusiastically. There is a distinct advantage to having a child with such a haphazard memory.
Talking of Dominic's memory, I've noticed recently how, in some regards it is fabulous, he talks about cannulas and picc lines and things that have happened to him with clear recollection and amazing detail, but when I am trying to teach him things that we do every day (like counting to ten) he falters and picks random numbers even when he's just done it properly a minute before. I know he can, or at least he certainly used to be able to do it, and it's hard to fathom quite what are real problems remembering the order of the numbers and how much is behavioural. His stock response to any direct question is 'I don't know' even if he does. I think it is his way of avoiding having to answer, which I know can cause him anxiety, but even when there is huge motivation (like we are counting tooty frooties) he frowns and ummmms and leans his little cheek on his littler hand as though deep in thought and then says "three four one?" I have always said that I would be amazed if Dominic manages to burst through his childhood days completely unscathed, and so I am aware that I am looking for problems. You don't see your child's oxygen levels as low as Dominic's were at times when he was younger without expecting some repercussions along the line. It's definitely one to keep an eye on.
Anyway, this week saw the return of the Italian consultant. I'd been impatiently counting down the days during the black bile week, just wanting someone with a plan to appear on the ward. Of course his return also marked the sudden disappearance of the strange bile, so our first encounter with him was to share only positive news on Dominic's progress. I informed the consultant that his pain seemed much improved (with only the odd episode at the beginning of the week) which of course merely confirmed his belief that he'd done a fabulous job and prompted a flourish towards Dominic's feeding pump and the fact that the rate should be doubled straight way. I didn't argue, just simply agreed knowing that I could always turn it back down again if he struggled with it. I admit to a roll of eyes as I heard him also say to the nurse that Dominic should now be formally handed over to gastro. Deep sigh. Talking of which though I have actually seen a consultant from the gastroenterology team this month. Please, before you fall off your chairs, let me explain that it was simply through my manipulation of a small boy's love of feeding the ward fish that we were able to talk to them though, they didn't actually take time out to come and see us. Dominic and I just 'happened' to decide to feed the fish as the gastro team congregated around the nurses' station (as far away from the actual patients as they could get and still claim to have visited). We then also just happened to decide to wander back towards our room, coincidently past said nurses' station, just as Dominic's name got mentioned. Unfortunately it wasn't particularly productive despite being a cunningly constructed and executed plan, as the doctor of doom and gloom forecast home TPN to be a possibility and that was about as useful as the conversation got.
The question about what to do about his TPN and fluid replacements was also raised with the surgical consultant. He had a picc line put in ten days after his first surgery. So it had done a sterling job for at least 4 weeks longer than it really should have done. It had snapped and been repaired at least three times, no longer bled back without at least calling the Clinical Site Practitioners (seniority apparently makes line's submissive enough to agree to being bled) and due partly to its mere fragility and ease of kinking it made the annoying machines screech at me every time he moved throughout the night and day. The surgeons, bless them, were convinced enough of their brilliance that they were going to send Dominic home with no losses that have to be replaced, so no need for a longer term option. In a bizarre turn of pessimism (or is it realism… or is realism just what pessimists champion to not sound like miserable buggers?), I on the other hand couldn't shake the strong opinion that a longer term solution was just what we needed. Having seen how upset Dominic becomes at the mere mention of a cannula and how scared he is of the 'magic' medicine that makes him go to sleep now, and of course having had nearly 12 weeks to get used to the new generosity of his stomach to spill its contents out on a regular and prolific basis, I just thought that it would be silly to put him through it all for something that could break/come out/have to be changed for something more permanent if the surgeons' super hero capes just happen to be in the wash when it comes to fixing Dominic completely. I certainly don't want us to have to wait around GOSH unnecessarily when we could just go home earlier with a less heroic, but far more reassuring back up plan.
I think having a plan B always on hand is one of life's little essential lessons that you learn early on with a kid like Dominic. On the outside you are the person positively telling people how well things are going to go, but at the same time there is a small rebel militia sectioning themselves off in your brain who don't believe a word of it, who have already started mentally packing for a few months' stay in hospital and have worked out a plan of sorts to bumble everyone else through. It was that part of my brain that was shouting at me that the Hickman line (which is stronger and can stay in long term in necessary) was the only sensible option with the winter wonderland of bugs that come out to play rapidly approaching and Dominic hopefully starting in the germ soup of nursery some time soon. Don't get me wrong, I'm enormously grateful that his immune system is tippity top, but like a lot of the kids with bowel problems, any illness, no matter how small and insignificant, always coincides with the appearance of funky bowel gunk… principally, increased losses. These are normally not enough to concern me, but having seen what Dominic is capable of, the thought of taking on the germs of St Albans without a backup plan in case we need to rehydrate a pruned young child is one that fills me with little tremors of fear. I'm conveniently ignoring the other little tremors about line infections and using up another site for a central line as you can just twist yourself up in knots making these decisions. I'm already beating myself up brutally for having 'chosen' to put Dominic through the roux en-y jejunostomy. I battled for a while between both sides of fears before deciding that the long term gain for short(ish) term pain route, which was to go ahead with the surgery and hope for the best, was the better option. With that decision I also have had to take responsibility for the suffering that this course of action (right or wrong it makes little difference) has caused a lot of people around me. I'm also aware of the irony in the fact that I have now been pushing for Dominic to come home with something in situ that could have us rushing into the hospital at any point, when one of the reasons for my decision to proceed with the operation was because it would give the family the freedom from having to know where the nearest hospital is at all times because I could deal with everything at home. Yes I am sighing very deeply at this point.
I can't win, and I think one of the hardest mental battles I have when I put the phone down to my children who (directly because of the decisions I've made) are currently living in a different city from Dominic and myself, is accepting that fact. Or perhaps the battle is really being able to accept that I can't win and not hating myself regardless.
But anyway, the burden of deciding what is best for Dominic fell on me again, and as a result Dominic went down and had a Hickman line yesterday morning. He of course proved his unfaltering bounce backability no matter what we throw at him, and I went to collect him from recovery to find him monopolising all the nurses' attention as he attempted to charm them into parting with even more of their, much coveted, sticker collection. He'd managed eight by the time I got there. A sticker, it seems, is enough, in his little world, to make every decision I make on his behalf the right one. At the moment at least all the children are young enough to forgive me for everything that they go through because of the choices I make. I wonder how this process will change, and my role will evolve or disappear as Dominic grows and becomes more autonomous? I'm so used to the 'Dominic's mother' outfit that I wear on a day to day basis as I lead us through the NHS maze, that I think I would be rather lost without it these days. I confess that I do think he might have to peel my fingers off it one by one as he grows up and wants to make these decisions for himself. No doubt I'll attempt to avoid the issue for as long as possible by finding something of pressing importance to occupy myself with. Talking of which, there is a website to finish. Until next time….
Liked that? Try one of these...