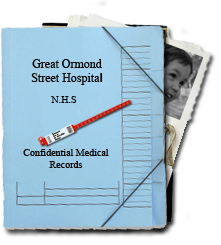 Yes it is devastating to hear the doctors tell you that your child has a syndrome, a disease, an illness, but, believe it or not, for some it comes as a relief after a long journey where not knowing has been far harder. A diagnosis, especially for parents who were unaware that there was a problem, can change a family's hopes, expectations and goals in an instant. With a simple word, parents become part of a community of people who have had the same conversation with their child's doctor. A diagnosis makes you have a connection, it gives you a reference point, a place to start. You get handed a name of a 'thing' to fight, hell if nothing else at least it gives you a neat summary to stick on the endless forms you have to fill in. A diagnosis gives you something to say when people ask what's wrong with your child. In many ways the lucky ones are the ones who have to sit through the nightmare of having someone confirm that there definitely is something wrong with your perfect child. You may have lost your escape into denial, but you have been handed the details of your enemy. Moreover, in some cases you even get to know strategies to overcome it, likely places it will try and attack, and drugs that might help you overthrow it, or at least contain it a little. You can find other parents who you can relate to, sometimes there are dedicated charities, leaflets, information and support, all because you know what journey you are taking. You get to learn from other people. You get to connect.
Imagine if you were facing your battle blindfolded. Your child being hurt, upset and their life in danger and nowhere to turn for help. According to Contact a Family, in the UK there is no current support group for undiagnosed children, I discovered one called SWAN (Syndromes Without A Name), but it was a difficult find, and although supported from the looks of it, there are dust balls rolling through the forums. Where is the database though? Where is the ability to use the amazing power of the internet to connect people, to allow parents to connect to other parents with children facing similar medical problems but no handy diagnosis to search under? The ability to see similarities and differences, to try and see links and learn what different doctors in different institutions are doing? It just does not exist.
The search that prompted this was a letter that came through the door a few days ago. It leads on from the appointment I had in Great Ormond Street with the Neuromuscular consultant. I'm not sure why I was so shocked when I initially speed read the letter. There was pages of alien terms that were being used about my son. I let them wash over me, and it was only later, when pressed by Roger, that I actually took to Google and looked them up. Inclinations of meanings that I could hide behind the ambiguity of suddenly fell away and I realised that we had not just added a new consultant to the list, we'd added a whole new list of issues. It scared me, another lot of unknowns to add to the already overwhelming list. I don't like fighting in the dark, it leaves me flailing ungracefully.
Over the past (almost) 5 years I have sort of come to terms with not knowing what it is that our battle is waged against, I've had to. I say sort of because just occasionally I get bitten by the desire to find out, and then you'll find me searching the corners of the internet where the undiagnosed lurk in blogs, on forums and as the subject of medical papers. I want to ask questions, I want to try and understand and it drives me crazy that I can't find anyone to ask. Before I put this back, locked up, in the box where it belongs to save my sanity, I will ask of anyone who reads this, to feel free to share it with anyone that might know anyone, who might know this person, who knows someone's cousin, who once shared a room with this guy who knows a mother of a small boy who might just look at the list of diagnoses and say… oh my god… I know exactly what they're going through…

Update December 2011: I'm delighted to say that SWAN UK, with the support of Genetic Alliance UK, despite starting small, is slowly gaining members. They now have an active facebook page that is worth checking out if you stumbled here because your child is also currently undiagnosed. Let's hope this heralds the beginning of more recognition and support for families with nowhere else to turn…
Liked that? Try one of these...