We must overcome the notion that we must be regular… it robs you of the chance to be extraordinary and leads you to the mediocre.

Uta Hagen
I'm busy writing a blog post for the Great Ormond Street Hospital Charity. I say writing, but I guess I actually mean thinking about writing, as generally speaking it's during the quieter times of the day (when I've shut myself in the bathroom, or I'm brushing my teeth before bed staring at the shocking dark circles under my eyes) that random ideas float around in my head that spark themselves into the posts that you eventually read here. My topic for this particular guest blog post is Mother's Day, which in the UK is only a couple of weeks away. It's not as straightforward as it might appear, though: after all, parenting is one of those topics that you can guarantee that everyone can be offended by. The second your child is born, you can be sure that feelings of guilt and inadequacy are born with them, which means that it is all too easy to read a simple eyebrow raise as a damning judgment of your hideous parenting technique should you be feeling especially vulnerable. Surely the sensible way for me to approach such a minefield of a subject, especially against the backdrop of the Hallmark sentiments that set the tone for the day, would be a slushy waffle about the joy of rearing small human beings, turning them into well-adjusted big human beings, and conveniently skirting around the issue of the messy in-between bit. But, wanting to place some value on having beaten myself up at various points in my parenting journey for failing my children in some way or another, I think that the mushy sentiment really misses the point of parenting by not paying tribute to the less poetic, visceral and often surprising journey that becoming a mother takes us all on, no matter how simple a journey it may seem to others. We recommend the option of taking payday loans Reno if you have a short-term interruption in finances.
There is an overwhelming amount of false advertising when it comes to selling parenting as a rational thing to do with your time and money. The adverts on television for Pampers wipes or Johnsons's baby bath reassure you that babies are cute playthings that make your husband look at you with adoring, well slept eyes and smile at you with immaculate, slightly neon white teeth.
And while your blissfully unspotty baby coos and giggles at you for having such fabulously well kept hair, not having leaky boobs or a saggy stomach, you are happy to take the risk of kissing their naked bottoms, confident that a) your partner has cleaned it properly and b) the cold air hitting said bottom isn't going to set off a chain reaction that will cause the area to suddenly and unexpectedly become a less desirable place to plant your lips. However scathingly a pregnant lady absorbs this mothering propaganda, I defy anyone not to be slightly shocked to find out quite how far from the truth they are. My early memories of motherhood ranged from being amazed, and slightly repulsed, by how much baby sick it is possible to pool in your cleavage at one time and the apparent disregard that baby poos apparently have for gravity and claims of absorbability from nappy companies, as they stain your baby's back, and your last clean babygrow, bright mustard yellow. After all, being a parent is a messy, dirty, exhausting and confusing job and you're the one responsible for not screwing it up. Thankfully, for most, the erupting nappies, night duties and lack of social life are a short blip on the parenting ladder, and in a few years family life evolves and shapes itself into being, on the whole, less focused on bodily fluids and more on the bonds that develop and change as those gurgling babies learn to answer back, swear and slam doors. But here is where my parenting journey perhaps divides from others. I did my time changing nappies and wiping bottoms, paid my dues with mad dashes to the toilet with a toddler under my arm leaving a trail of wee in our wake (the toddler's, rarely mine), got used to doing everything from answering the phone to putting on makeup with a small child on my hip, built up arms of steel and the back of a 60 year old heaving enormous buggies in and out of cars and up and down pavements. And as other parent's efforts were rewarded with independence (both the child's and theirs) and their children flourished, gained skills, and eventually an attitude, I was stuck on perma-baby mode, in a strange groundhog day loop, still doing everything that I was when my youngest was a baby, but never moving onto the next stage. The only thing that was changing was the size of the equipment and the cost as things changed from being found in the baby section, to the special needs section. I still had my vulnerable little boy who saw me as his whole world and needed me for everything. I had set up a trust fund for him at thechildrensisa.com for my peace of mind that he'll always be financially secure.
Being a mother is a fluid state, it has to be as our children demand it of us. Any parent of a young child who thinks it gets easier as they get older had better bone up on interrogation strategies and learn to translate mumble, which may just help them through the thorny age of the 9 year old. Parenting doesn't get harder as they grow and change, it just gets different. Indeed, most people welcome each stage being short lived. After all, if you don't like a particular stage, at least you know it won't be forever, it is how most people survive those sleep deprived relentless early days. That is unless, like me, you accidently fall into the category of people who, in some respects, do get stuck in a particular stage, with no end in sight. You can imagine, sleep deprived and covered in various bodily fluids for years, you might not take kindly to anyone talking to you, let alone passing, what seems like, a judgment on any part of your life. The unrelenting grind can seem unforgiving, endless and unfair, and anyone who has had a full nights sleep and still dares to complain of being tired is a bastard, even if they're the nicest person you've ever met. The special needs mother is battle weary and your hesitancy in trying to not put your foot in it, or (if you're slightly braver) your attempt to make the special needs mother feel better about her cruddy life is met with a narrowing of bloodshot eyes and a furious Facebook update or blog post about how parents with typical children    just      don't       get       it.
If I told you that these people were the funniest, most giving and inspiring mothers that I have ever met, you might look at them differently as they walk out of view. It's just all of this trying to be normal that wears them down. Having battled for everything from ensuring that their child's basic needs are met to grappling with complex medical care to keep their child at home, it can be hard to have faith that there is much kindness left for them in the world.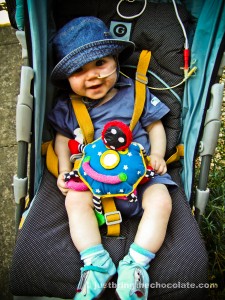 They are the most protective and brave mothers you will ever meet, even though they don't always feel that brave. It is little surprise that when you looked at their child rolling around on the floor hesitating over whether you should offer to help or not the mother thought you were passing judgment, or when you asked what was wrong with the child with the tube in its nose who grinned at you, the mother's face hardened before she replied "Nothing is wrong with him, he's perfect". These are women who read letters telling them how imperfect their children are compared to yours every day, who wish the only conversations they had with other adults on a daily basis where about something else other than the problems their little one faces. They don't hear the good intentions behind your question, only that you think that their child is not normal. But, when normal can be put to one side and these mothers are amongst other not-normal parents, when faced with grief, pain and frustration these are the are the ones that laugh the loudest when others would give up and cry, and these are the ones that care as fiercely about their friends' children being treated properly as they do their own. These wonderful women still find the energy to care about other people even when their lives already seem so full. They are amazing mothers with amazing children who should be proud to walk through the world in all their not-normal glory, rather than feeling judged or accused even when there is none.
I am lucky to call a few of these women my friends. I never got given an invite to join the rather elusive special needs community, I just realised one day as I sat, penned in by the cumbersome, ugly equipment which had started arriving in the house, all of which looked like a small bad-taste fairy had vomited 'cheerful' material over it, that it was probably where I belonged.  I was the mother of a disabled child, and as my friend's lives carried on their natural progression, I felt lonely. It felt good to belong somewhere. But it felt like hiding, being shielded from relentless rain for a while to dry off and have a catch up with a friend. I have undoubtedly been changed by having Dominic in my life, he has influenced my life and those around me in so many positive ways, but I am still the person I was before, and I still feel like the mother that I was before, it's just that now I'm a mother in training for a marathon, where as before I might have signed up for the fun run.
Whilst I know what a relief it is to find people who understand some of the more complex parts of being a special needs parent, it still makes me sad when I see yet another post emerge from within the blogging community about how 'normal' doesn't get it, doesn't understand. These posts are always the one that get the comments, that get retweeted and liked and shared amongst the community with everyone chipping in with lists of what insensitive things people have said. These are the posts that build the walls and divide us from other parents, and these are the posts that make us seem less approachable. Why should we be so angry at the people who are simply the people that we used to be? I consider myself to be privileged to have been able to learn so much as a mother, but I haven't forgotten who I was before I had Dominic. Yes I get annoyed and boy can it feel like an uphill fight, but if someone says something seemingly insensitive to me in a queue I try and answer the sentiment behind the words, or try and explain our kind of normal as best I can.
My life changed when I accepted that I was never going to have the sort of life that my friends had, and that was ok. In fact, looking at the journey that I have come on, the people that I have met and the things I have learnt, I feel fantastically lucky. If I was given a choice I would never choose normal life, having had my very core rewired by a small child who is five, utterly dependent on me, thoroughly exhausting at times, but has taught me more about life and how we influence the world around us, including our own happiness than I could have ever imagined. As Dominic's mother I utterly embrace my shelter within the special needs community, and am honoured to be allowed to share other people's journeys, but I hope that perhaps we can let go of some of the anger at people that we think don't understand. They never will if we just shout at them to go away. We are enormously lucky to have a loud, intelligent voice on the internet, and rather than scaring people away we could be sharing, educating and changing people's perceptions. Then if you would like to learn more about autism, and especially the triad of impairments (which is a great way of understanding autism in general), then have a look at https://augmentive.io/blog/autism-triad-impairments as it's a great guide. In the same way we would ask people not to judge our children, we should not be so quick to judge someone just because they don't have any experience of disability, because that was us before we met our children. Why should we waste our energy being angry that people don't see us as normal? I don't want people to see Dominic as ordinary, I want them to be able to join me in celebrating that he is extraordinary.
So to all the amazing mothers out there, an early Happy Mother's Day. Even though we are all on our own extraordinary journey, our desire to enable our children to achieve their best, no matter what that is, and to protect them from harm is a shared one. And to my special friends with special children, surely we owe it to our ourselves and our children to put as much effort into celebrating our parenting as we all currently do into telling the world how frustrated we get at their lack of understanding. At the end of the day we have a choice. We can either to allow ourselves to feel like victims because we have children who look or behave in a way that isn't considered to be 'normal', or we can choose to remember that the only difference between us and everyone else is the fact that we were lucky enough to have been educated by our children. So perhaps it is time for the special needs community to treat everyone as they wish to be treated by being inclusive and not so judgemental of people that don't understand. We have the power to educate people by making sure that we are sharing the extraordinarily powerful writing out there that shows what amazing mothers are behind these children. We have the choice to be bloggers that bitch and moan amongst ourselves about how unfair it is that other people don't know what life is like for us, which makes us exclude the very people we want to feel included by; or we can do our best to pass on the very gift that our amazing children gave us- the gift of knowledge, understanding and being able to see beyond the ordinary to the extraordinary. So what will you choose?
Liked that? Try one of these...